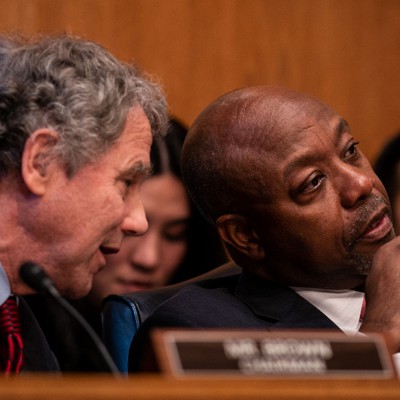 Capitol Hill is continuing its regulatory probes into the growing cryptocurrency industry as the federal government looks to understand how, and if, to integrate digital assets into the institutionalized national economy. 
The Senate Committee on Banking, Housing, and Urban Affairs held a Tuesday hearing on potential cryptocurrency regulations, surveying a suite of academics and industry experts on what financial guardrails are needed for a crypto future.
Before any witnesses were questioned, however, bipartisan voices on the committee skewered the recent economic volatility and criminal activity in the cryptocurrency marketplace. Committee Chair Sherrod Brown, D-Ohio, decried the usage of digital assets to skirt sanctions and fund foreign adversaries.
Across the aisle, Committee member Sen. Tim Scott, R-S.C., noted that while Congress wants to help financial innovation flourish, adequate consumer protections must be factored into new technology.
"Financial innovation must be done so in a safe and sound manner, which unfortunately, has not been the case with a number of actors in the digital asset space," he said. 
The broad consensus reached during the hearing was that Congress should be implementing more regulations and updating laws to help establish robust protections for the digital asset marketplace. 
Witness Lee Reiners, the policy director at the Duke University Financial Economics Center, said that the general structure of banking regulations works well—specifically the guidance for crypto banking released by the Federal Deposit Insurance Corporation and the Office of the Comptroller of the Currency—but that these entities should consider issuing even more formal regulations. 
"If crypto had been more integrated in the banking system, the fallout of FTX would have been much, much worse," Reiners said, citing the recent financial implosion of the crypto trading platform. "So I do think that they can do more and be more prescriptive around what specific crypto related activities can and cannot be done in a safe and sound manner."
Reiners also confirmed that cryptocurrencies are "ideally suited" for money laundering, in conversation with  Sen. Elizabeth Warren, D-Mass., who advocated for stronger regulations to prevent cryptocurrencies from being used to fund sanctioned countries. 
The tone of this hearing coincides with the recent restrictions the Federal Reserve Board issued on cryptocurrency last week. The new rule states that digital asset banking is generally incompatible with existing banking law, and that the Federal Reserve would "presumably prohibit" member banks from holding most crypto assets.