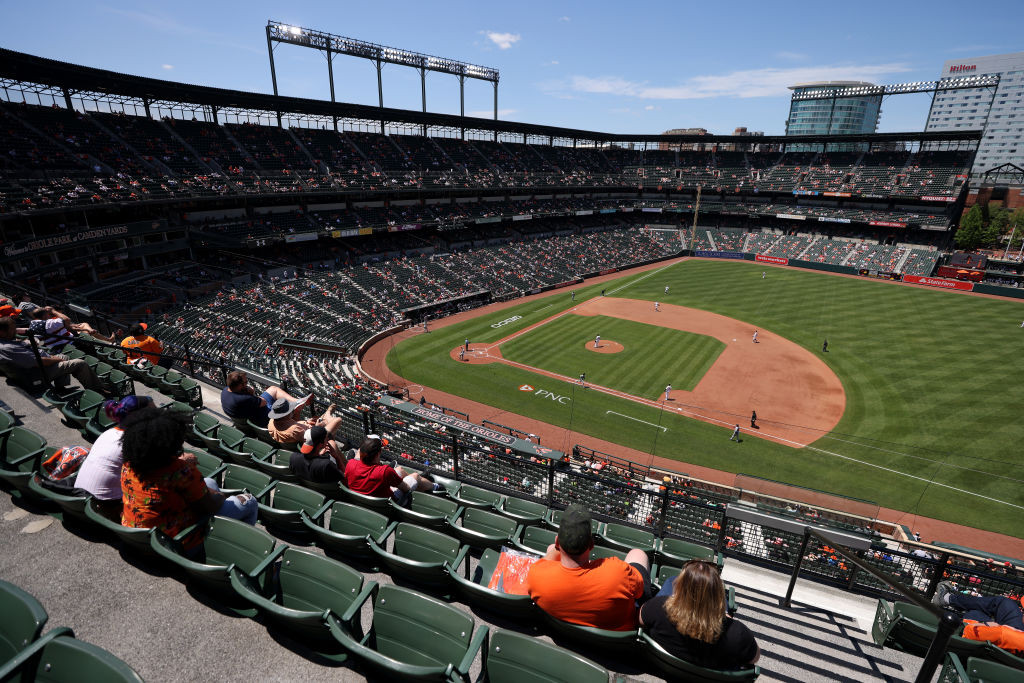 While the Orioles' stated goal for this year is to take their 83 wins from last year, build on that and make the playoffs, not everyone believes that will happen. Or at least their predictions and projections lead you to believe they are skeptical.
The Orioles gained 31 wins last year to get to 83, and that was the second-biggest win gain from one year to the next in team history. The 1989 Orioles won 87 games, a year after the club won just 54 in 1988, for a plus-33.
According to the Elias Sports Bureau, the 2022 Orioles were the first team since 1900 to win at least 77 games in a season after losing 110 or more games the previous year. And they were also the first team in major league history to win more than 70 games after finishing each of the previous three full seasons (150+ G) with 100+ losses.
But while Birdland is excited to see if their club can get back to the playoffs in 2023, others being heard from are trying to throw some cold water on the whole thing.
We can always count on the PECOTA projections for this.
PECOTA stands for Player Empirical Comparison and Optimization Test Algorithm. PECOTA is the Baseball Prospectus proprietary system that projects player (and also team) performance based on comparison with historical player seasons.
Last year this system was pretty close on the American League East, actually, missing three teams by a total of two games. But there was one team where they missed big. Here are the 2022 win projections for the division.
99 – New York (actual was 99)
91 – Toronto (actual was 92)
86 – Boston (actual was 78)
85 – Tampa Bay (actual was 86)
61 – Orioles (actual was 83)
And released yesterday, here is the PECOTA for 2023 in the division:
99 – New York
90 – Toronto
86 – Tampa Bay
81 – Boston
74 – Orioles
So that would be a minus nine in the win column for the Orioles at a time when they feel they are ready to make a playoff run. And at a time when the balanced schedule could be beneficial to AL East clubs.
But rather than get too worked up – if anyone should at all – over this projection, Captain Obvious called to remind that it didn't matter last year. And that it might not matter this year either. The Orioles still get to play and win on the field, no matter what a computer or algorithm spits out.
PECOTA, by the way, has a history of being bad at predicting O's results when they were good. From 2012 to 2016, the club made the playoffs three times, won an AL East championship and led the AL in wins for that five-year period. But PECOTA never saw the O's as winners.
2012 – 72 wins (actual was 93)
2013 – 74 wins (actual was 85)
2014 – 78 wins (actual was 96)
2015 – 79 wins (actual was 81)
2016 – 75 wins (actual was 89)
The average win projection over that run was 75.6 while the club posted an actual average win total of 88.8 in that span. A big miss on a couple of occasions was pitching. In 2014 the club was projected to allow 713 runs, but gave up just 593. Two years later it was 715, after a projection of 813.
In the early years of the rebuild under the current front office, PECOTA missed low on the Orioles. In 2019 the projection was for 57 wins and they got just 54. In 2021 it was for 66 and they won only 52 games.
When it comes to how fans receive such projections, I felt some of my recent stories on individual player season projections found a group of fans that enjoyed it and wanted to see such things. There was another group that seemed to run for the hills and saw them as completely useless.
Projections can be fun or not, or interesting or not, depending on your perspective. But the real standings start on March 30.