view original
post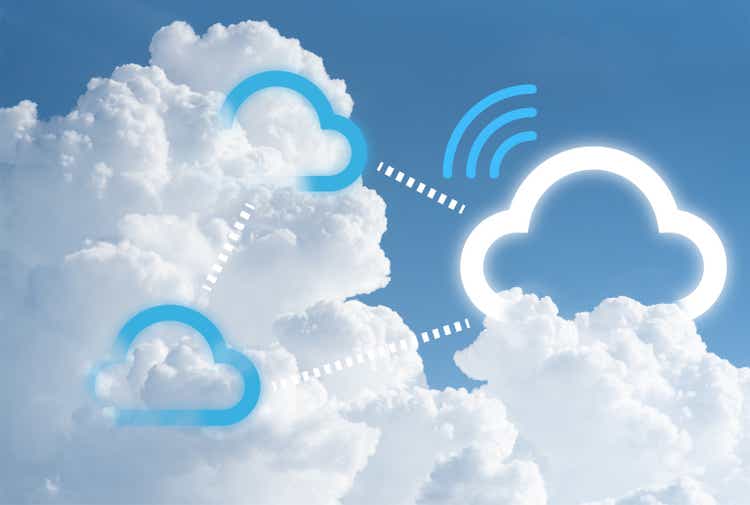 Overview
The hold case for Rackspace Technology (NASDAQ:RXT) is there is plenty of uncertainty regarding RXT's strategic reorganization at the moment. While things seem to be good so far, based on 3Q22 earnings results, it is still difficult to forecast. As such, while the current valuation seems alright in terms of risk/reward, I think it is safer to invest when there is more visibility.
Business description
RXT provides services such as cloud hosting, managed cloud hosting, assistance with compliance, enterprise security, and data protection.
More businesses adopting multi-cloud solution
Migration to and from clouds, siloed workloads, and protecting against rising security threats are just some of the challenges that businesses face as they adopt multicloud technologies. In addition, a growing number of companies are exploring how cloud computing can be used to improve their commercial prospects, customer service, and overall growth. This, in my opinion, presents a sizable and expanding opportunity for service providers who can deliver multicloud solutions that give their clients access to the most appropriate cloud resources for any given workload, regardless of the client's chosen technology stack.
Large addressable market
The current situation is indicative of a paradigm shift, in my opinion. Technology and service providers with in-depth knowledge of multicloud technologies stand to benefit from the current era's trend away from businesses relying on self-managed IT solutions in order to compete successfully in the digital economy. Simply put, the RXT market opportunity is a reflection of the need for services based on cloud technology, and I am confident that this sector will rapidly expand to become a sizable market.
In my opinion, the RXT market is still largely untapped, and this is only going to grow as organizations invest more in multicloud infrastructure and related services. Because of this ongoing shift, I anticipate RXT will be in a better position to boost its earnings as organizations expand their use of the cloud and their spending with cloud services providers like RXT. RXT, in my opinion, is in a great position to reap the benefits of this development because they have rolled-out innovative solutions to the market, which are rapidly replacing more established methods of providing these services and posing a threat to numerous established vendors in the IT services and technology markets.
Strong customer relationship leads to efficient GTM model
RXR is ahead of the curve thanks to its unique partnerships with industry-leading providers of both public and private cloud services. As part of a coordinated go-to-market effort, RXT and its partners' sales teams make packaged solutions available to customers. In addition, RXR is privy to its partners' product road maps, which can be used as a vital resource in the creation of mutually beneficial services and technologies. In my opinion, all parties involved in the ecosystem benefit from these partnerships. RXT and its partners obtain valuable insights for further innovation and reap the rewards of joint go-to-market initiatives; meanwhile, customers make better use of innovative technologies, shorten their time to market, and maintain their competitive edge.
These mutually beneficial partnerships are bolstered by the direct sales platform integrated into the RXT GTM model and managed by a dedicated team of sales reps. Following deployment, RXT stayed in close contact with its customers, looking for ways to increase the ROI of their investments and adjusting its services accordingly. In the long run, this strategy, in my opinion, gives customers a single reliable consultant for all cloud environments, regardless of the underlying technology or the chosen method of deployment.
I believe RXT's sales efficiency is strong in the industry because of the close customer and partner relationships that fuel its go-to-market strategy.
Key differentiation from peers
When comparing RXR's offerings to those of legacy firms, I find that the former have a much higher degree of standardization and thus are more beneficial to the client. This is in contrast to the high touch sales model that RXT's competitors use, which is likely a result of RXT's focus on small and medium-sized clients and its one-to-many model. In my opinion, RXT stands to gain from the current trend toward standardized and simplified IT workflows, which aim to increase the effectiveness of DevOps tooling and allow for greater value to be extracted from IT budgets.
Besides this, I think RXT's proprietary tool, Rackspace Fabric, gives them a leg up on the competition. Customers can access all of their cloud environments and RXT's managed services from a unified user interface made possible by Rackspace Fabric. The platform standardizes the multi-cloud experience for users by providing a unified framework for governance, tickets, billing, and tagging across all cloud platforms. With the proliferation of multi-cloud infrastructures and the corresponding rise in complexity, I see an opportunity for Rackspace Fabric to increase in value. When it comes to small and midsize businesses, the tool helps the company stand out from the crowd, and when it comes to large enterprises looking to consolidate their cloud environment, it acts as the spearhead.
3Q earnings was alright but introduced elements of uncertainty
Adjusted 3Q results for RXT beat on revenue, marking a promising beginning for the new CEO. I think market participants are keeping an eye on the ongoing reorganization at RXT and its potential financial effects. Though I agree with the goal, "de-emphasizing infrastructure resale" in favor of "high-value services and private cloud for targeted verticals," this transition will be challenging. I think as RXT keeps reporting, we will learn more about the strategy, and in the meantime, we can expect stable operating expenses as the company strikes a balance between cutting costs and investing. My expectation for 2023 is that growth will be stifled and gross margins will be under pressure due to changes in an uncertain macro backdrop.
Expectations aside, RXT surprised in the third quarter by recording $464 million in charges related to multicloud impairments and admitting that changes in product offerings and external factors have negatively impacted projected operating results, setting aside initial expectations. With tough decisions weighing on near-term results, RXT has predicted a sequential decline in revenue in 4Q and outlined a challenging 2023. The CEO emphasized that the weak macro outlook included in the 4Q guidance is the real payoff from the reorganization, which will occur in 2024. Objectively speaking, I believe this quarter presents a great opportunity for RXT to set a new, more favorable performance record.
RXT highlighted three main goals in its restructuring plan: reducing its focus on low-profit infrastructure resale work in Public Cloud, expanding its high-value Public Cloud services business, and taking advantage of strong growth in the Private Cloud business by focusing on specific industries. Overall, it's difficult to predict the company's financial performance in 2023 due to the many factors at play. For instance, the shift away from infrastructure and resale may negatively impact revenue but positively impact profit margins.
Forecast
Using consensus estimates and the current forward valuation, it implies that RXT has 34% upside.
I believe there are two themes in play here: (1) Industry secular growth towards adopting cloud solutions (2) RXT strategic changes internally. As I mentioned above, I believe most readers will agree on the strong industry trends and RXT is well-positioned to benefit from it. However, the limiting factor on the stock is RXT ability to reorg, and this is something that is, frankly, hard to forecast at the moment without more information. As such, despite a possible upside, I believe it is wiser to wait for RXT upcoming earnings, to gain more information, before investing.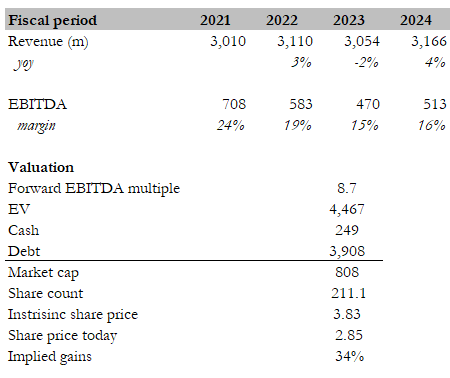 Key risk
Execution risk
For RXT, I think the biggest threat comes from the possibility of botched implementations. A lot of weight has been placed on the new CEO's shoulders to reorg the company and generate the required financial results to win back the confidence of investors. Earnings for the third quarter have reset expectations, but if RXT continues to fall short, the stock could take a tumble.
Conclusion
RXT is on hold for the time being due to the high level of ambiguity surrounding the company's planned strategic reorganization. Earnings for the 3Q22 suggest that things are going well, but further projections cannot be made with any certainty. I believe it is prudent to hold off on investing until more information is available.