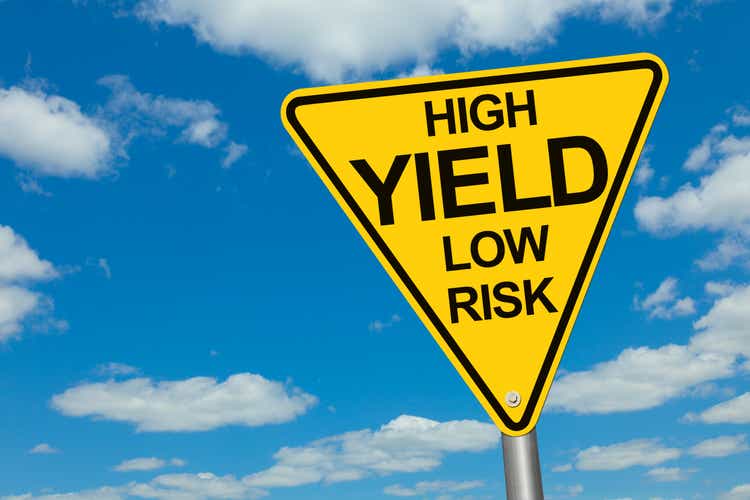 The Vanguard High Dividend Yield ETF (NYSEARCA:VYM) is a popular fund among income investors. The reasons for this are pretty straightforward:
With 445 holdings, it makes building a well-diversified dividend portfolio extremely easy and totally passive. Investors in the ETF

need to know nothing about economics, business, geopolitical events, technological trends, accounting, or valuation and yet can still achieve very solid long-term total returns.

Even better, investors have to pay a very low 0.06% annualized fee to the fund for managing their money. Given that the typical investor in this fund has a relatively small portfolio, the dollar amount of this fee turns into a great return on time saved for most investors. Say the average investor in the fund has a $500,000 portfolio and earns $40 per hour at their job. Instead of spending 100 hours each year actively managing their portfolio, they can instead automate deposits into VYM each month and instead put that time into their job, turning into $4,000 extra in income per year. Meanwhile, their total fee to VYM for managing their money turns into just $300 per year. The trade-off here is clear, effectively earning themselves an extra 0.74% per year in returns in this example.
VYM has a proven long-term track record of generating solid performance for shareholders, only slightly underperforming the S&P 500 (VOO) since its inception and actually outperforming it over the past three years: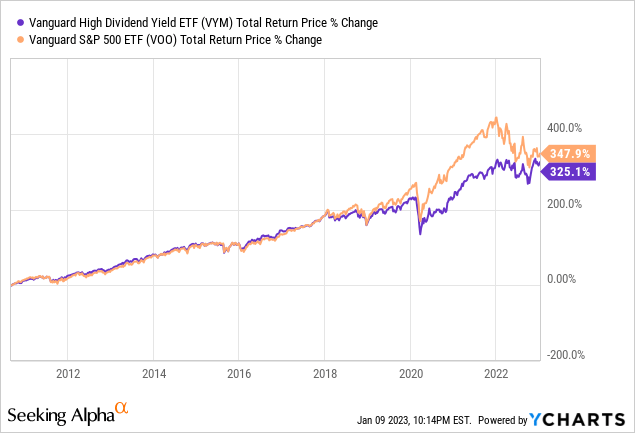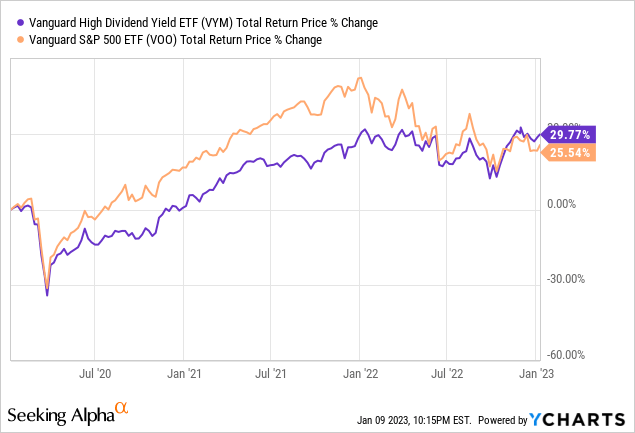 With leading blue chip dividend stocks like Johnson & Johnson (JNJ), Exxon Mobil (XOM), and JPMorgan Chase (JPM) as its top holdings and a heavy concentration in more defensive and inflation-resistant sectors like financials, health care, consumer defensive, energy, and utilities, the fund appears well positioned to weather an impending recession:
Last, but not least, VYM offers a solid current yield of 3% and has a track record of growing that dividend at a strong clip over time, with the dividend per share increasing by 169.9% over the past decade alone, amounting to a ~10.5% CAGR in the dividend per share over that time frame: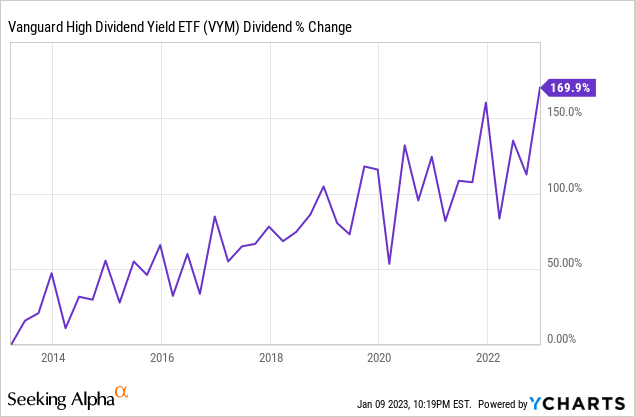 With a current yield that can fund the living expenses of a retiree who has a reasonably large retirement fund (a $1.5 million investment in VYM generates ~$45,000 in dividends per year) while also growing that income at a rate that significantly exceeds the rate of inflation.
All this sounds great, and we are not of the opinion that VYM is a bad fund for those that already have a comfortable ($2 million plus) retirement fund and want to invest as passively as possible and can live comfortably on the dividend income that VYM provides them with. However, we still believe VYM is not the best vehicle for those looking to retire on dividends in the current environment. Here are two reasons why and what we do instead:
#1. Inflation & Interest Rates Are Too High
While a 3% dividend yield may have looked very attractive just a year ago, the interest rate landscape has changed dramatically over the past twelve months: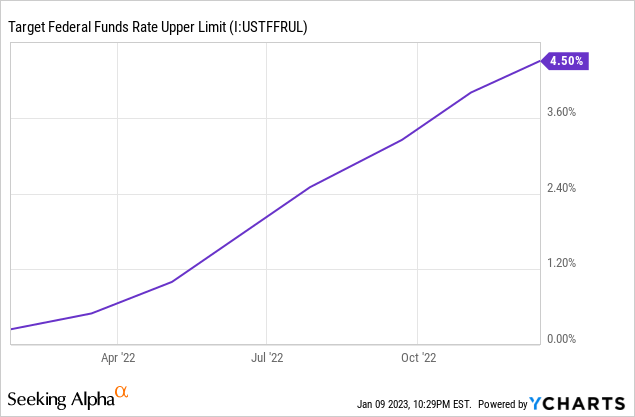 With the Federal Funds Rate exceeding VYM's current yield by ~50% with more interest rate hikes likely this year, VYM is no longer very impressive as a source of income. In fact, in the current world, labeling a vehicle that yields 3% a "High Dividend Yield" ETF is rather misleading.
Inflation has already wreaked havoc on many retiree's plans by driving up the cost of living substantially. While there are signs that inflation is declining sharply, we are not out of the woods yet. As a result, unless you are already a very wealthy individual with a net worth about $2 million or are planning on retiring in a third world country with a low cost of living, VYM is probably not going to cut it for you.
Even for those investors who say that they plan to live off of the 3% dividend yield and then sell off a portion of the shares as well to further subsidize their lifestyle, disappointment may be in order. Despite last year's abysmal returns, the stock market remains overvalued according to numerous models such as the Buffett Indicator, the Yield Curve, and P/E Ratio. As a result, to expect VYM to continue generating strong capital gains alongside its current dividend yield might be wishing for too much.
#2. A Recession Is Coming
Between the inverted yield curve and declining money supply, serious recession indicators are flashing all over the place. This just adds more risk to point number one. Investors who are hoping for reliable capital appreciation and continued strong dividend growth to subsidize for the 3% current dividend yield being offered by VYM are likely to be disappointed in the near term at least.
In a recession, many of VYM's holdings will have to dramatically slow their dividend growth, some will pause dividend growth, and some will likely even cut their dividend payouts. In aggregate – depending on the severity and length of the recession – VYM's dividend payout will likely slow considerably and perhaps even stop altogether for a few quarters at least. Yes, its immense diversification will help to insulate it from dividend cuts in its portfolio. However, the reverse is also true: by diversifying so broadly, VYM is inevitably exposing itself to a lot of losers, including likely dividend cutters and even dividend eliminators during the next recession. By blindly diversifying so broadly, the risk-reward offered by the fund is unlikely to be better than average.
Between points one and two, investors looking to VYM to cover their living expenses will probably need to factor in a much greater margin of safety when making their plans in the current environment.
Investor Takeaway
VYM has been and remains poised to be a solid pick for investors who have a large retirement fund and are looking for a low-stress, low-cost, and low-time commitment way to fund their retirements while also preserving principal over the long-term for their heirs.
However, given current macroeconomic conditions – lingering inflation, significantly higher interest rates, and an impending recession all while the stock market as a whole does not look cheap at all – VYM will likely fail to deliver total returns and dividend growth in the coming half decade that are in line with its historical track record.
As a result, many investors will likely be very disappointed with and have to either modify their lifestyle expectations, postpone retirement, or change their investing strategy. At High Yield Investor, we are taking advantage of the higher yielding common and preferred stocks as well as the higher yielding bonds that have been offered up in the wake of last year's sell-off to build a portfolio that yields ~7% today while also crushing the market over the past two years.
By avoiding the over-diversification (i.e., "diworsification") of funds like VYM in favor of a hand-picked diversified basket of recession resistant, investment grade securities, investors can position themselves much better for meeting their retirement goals without taking on too much more risk. There are numerous investment grade securities that offer yields that are at least double that of VYM's while also generating similar dividend growth through a combination of organic dividend growth and opportunistic capital recycling. Three of our favorite picks of the moment are Enterprise Products Partners (EPD), Blackstone Secured Lending (BXSL), and Brookfield Property Partners Preferred (BPYPO).