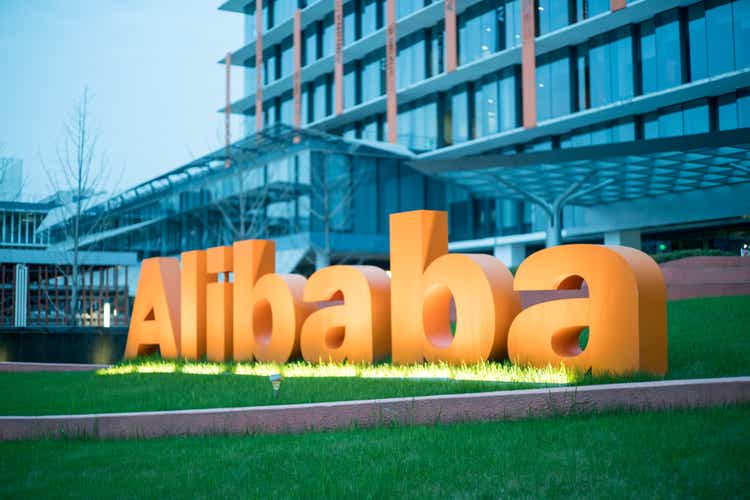 As fears of a recession caused by the Fed's aggressive monetary path loom large for the stock market, many analysts are warning investors to only put their hard-earned savings into companies that earn profits. Blue sky investments in companies that bleed capital and record consistent losses have suffered over the past months as dark economic clouds have covered the blue skies of the past years. In 2022, the worst-performing U.S. stock market sector was the tech-heavy Nasdaq, loaded with companies with a promise that had yet to deliver concrete results. The Nasdaq dropped 33.1% in 2022, closing at the 10,466.48 level, and was lower on January 9, 2023.
Alibaba (NYSE:BABA) slightly outperformed the Nasdaq in 2022, posting a 25.8% decline. However, in early 2023, BABA has been on a bullish warpath, with the stock up over 26% at $111.36 on January 9, compared to the 2022 $88.09 closing price. BABA makes money, and Seeking Alpha's Factor Grades award the company an A+ in profitability. BABA shares have lots of upside potential, but the potential for the Chinese stock comes with commensurate risks.
Explosion and implosion in BABA shares since September 2014
BABA has a history of explosive and implosive price behavior.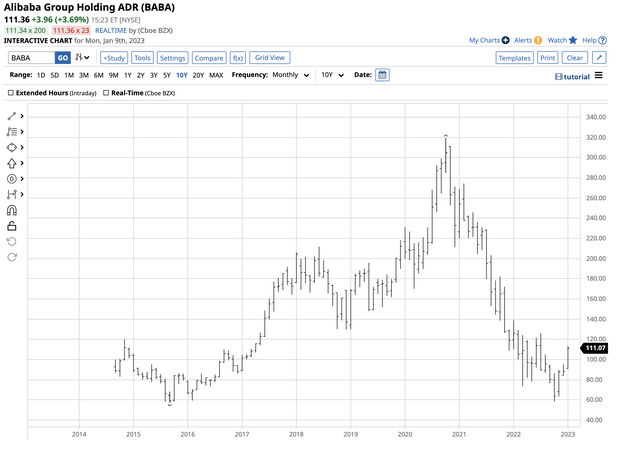 The chart shows BABA shares opened for trading at $92.70 in September 2014. After an IPO-inspired 29.4% rally to $120 in December 2014, the stock dropped 52.3% to $57.20 in September 2015. BABA shares took off on the upside, making higher lows and higher highs, and reaching a record $319.32 peak in October 2020, 244.5% higher than its introductory price and 458.3% above the September 2015 low.
The implosion followed, taking the shares to a $58.01 low in October 2022, an 81.8% plunge from the record peak. BABA shares held the September 2015 low, making a slightly higher bottom in October 2022, which turned out to be a significant bottom.
BABA is an ADR – Investors have not favored Chinese stocks for three reasons
An ADR, or American depositary receipt, is a negotiable security that represents securities of a foreign company that allows that company's shares to trade in the U.S. financial markets. BABA is a Chinese-based e-commerce company. While the ADRs began trading in September 2014, BABA was incorporated in 1999; its company profile states: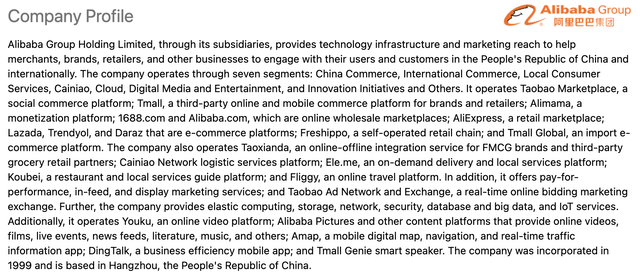 Three factors have been roadblocks for BABA ADRs trading on the NYSE:
Many investors are dubious about the complex corporate structure of Chinese companies.

The cloudy nature of financial reporting creates another level of concern. Many investors assume all Chinese corporate entities are ultimately government-controlled and owned.

Issues surrounding founder Jack Ma's travails with the Chinese government have weighed on BABA shares.
Meanwhile, BABA's earnings history reflects twenty consecutive quarterly profits.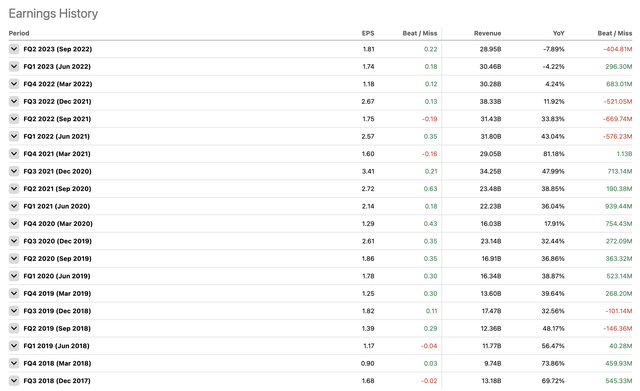 BABA has only missed EPS estimates in three of the past twenty periods.
Charlie Munger remains a BABA believer
Warren Buffett and Charlie Munger are two of the most iconic value investors in history. A mid December 2022 article on Seeking Alpha about Li Lu described his close relationship with Charlie Munger, who calls him "Chinese Warren Buffet." The author believes that Lu's Civilization 2.5 theory makes BABA "not only investable, but also a good value investment opportunity because of the enormous gap between its valuation and profitability." On December 19, BABA shares were at the $87.16 level, significantly below the January 9, 2023 price.
BABA remained the third-largest holding in the latest 13F-HR filing for Charley Munger's Daily Journal Corporation.

The chart shows no change in Mr. Munger's BABA holdings from the previous quarter.
BABA is China's e-commerce giant and reflects the health of its economy
COVID-19 lockdowns created a challenging year for Chinese companies in 2022. However, throughout last year, BABA beat analyst estimates, with quarterly revenues around the $30 billion level.
The average price-to-earnings ratio of the S&P 500 based on the SPY ETF is 16.41 times earnings. BABA's P/E ratio is slightly below at under 16 times earnings. Meanwhile, the A+ grade in profitability is compelling: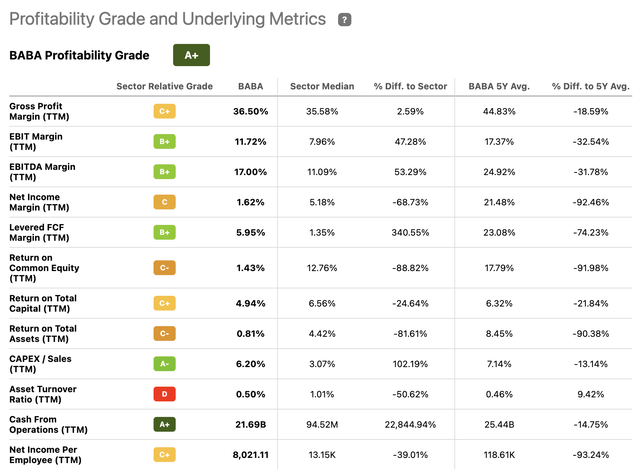 The chart shows the highest rating in cash from operations.
As China emerges from its COVID-19 protocols, the economy will likely recover. With the U.S. stock market under pressure from rising interest rates and the potential for a recession, investors are looking for value and earnings. While blue sky and growth promise attracted investments over the past years, profitable companies will likely become safe havens in 2023.
Moreover, the trend is always your best friend in markets across all asset classes, and BABA's path of least resistance turned higher after falling to $58.01 on October 24, 2022.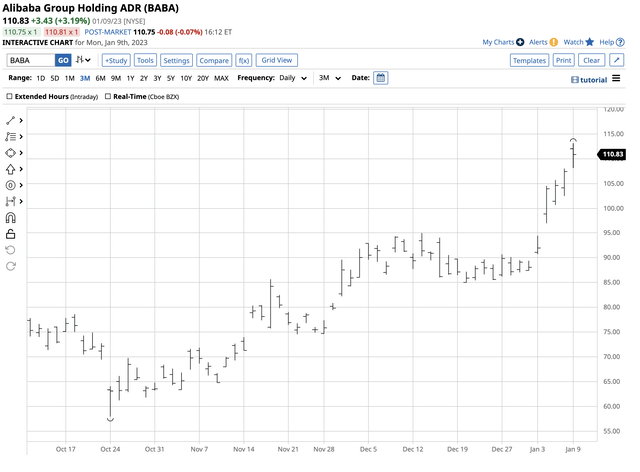 The chart shows the very bullish pattern in BABA shares that have nearly doubled since late October 2022.
Lots of upside room, but risks come alongside the potential for rewards
The critical technical level to watch is at the early July $125.84 high. A move above that level will break the pattern of lower highs and lower lows in BABA shares.
Meanwhile, the short-term trend is decidedly higher as of January 9.
BABA offers lots of upside potential, but a long position in a Chinese stock remains a risky investment for the following reasons:
The "

no-limits

" alliance with Russia remains a clear and present danger for investors in any Chinese companies. As the war in Ukraine continues and China continues to pursue reunification with Taiwan aggressively, there's a potential for sudden downdrafts in BABA and other Chinese stocks.

China's economy is just beginning to emerge from its COVID-19 lockdowns. Any outbreaks of new virus variants could cause economic weakness to continue in 2023.

Reporting and corporate structure concerns continue to be a roadblock for many investors.
BABA is a profitable company that offers investors concrete results in an environment where dark clouds have covered the blue sky for companies without earnings. However, risk is always a function of any potential reward, and the potential for substantial rewards in BABA comes with commensurate risks.