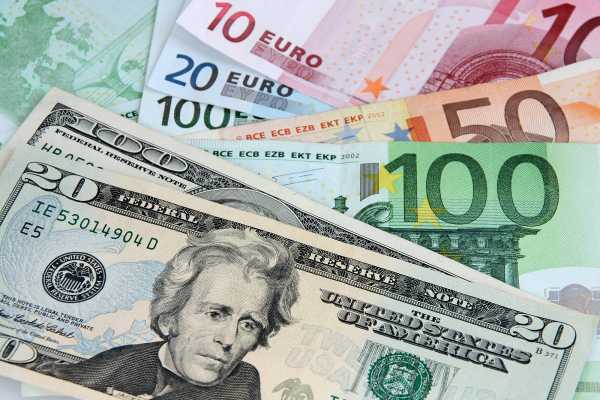 EUR/USD breaks out of last week's bullish hammer candlestick pattern, and then advances to a new trend high (above 1.0736). That move triggers a confident trend continuation signal. This advance follows last week's bounce off support of both the long-term downtrend line and 34-Day EMA. The low last week, and the low of the correction, was 1.0482.
Price Action During Correction Is Bullish
Especially, the 34-Day line can be watched going forward as trend support. Notice that both the downtrend line and 34-Day line were almost at the same price when price jumped up. When two trend indicators identify the same price zone, it can be given a little extra attention and considered to strengthen the significance of the price area being highlighted.
It was about a month ago that the EUR/USD first rose above the downtrend line, which is bullish. Since then, the pair has stayed above it as it consolidated. Buyers were aggressive enough to hold it up. In addition, the recent correction was shallow, dropping only 2.4% above the prior trend high at 1.0736. There is another sign that the trend is getting strong. It occurred a couple weeks ago when the shorter 34-Day EMA moved above the longer-term 200-Day EMA.
Near-term Targets
A trend continuation signal increases the chance that the trend will continue. Next, we look for confirmation of strength. Confirmation will next occur on a daily close above the 1.0736 trend high. At that point the EUR/USD first targets the 127.2% Fibonacci extension (greater than 100% retracement) of the most recent correction at 1.0805, and then the 161.8% at 1.0893.
Nevertheless, once the EUR/USD closes above the 61.8% Fibonacci retracement, it will then target a resistance zone consisting of the 78.6% Fibonacci retracement at 1.1075, and prior swing high resistance at 1.0787. Keep mind of course, it may take a little time to get there.
Watch for Short-term Weakness
Given the above bullish scenario, short-term weakness can be watched for bullish reversal patterns to setup to better take advantage of the dominant bull trend. There is a saying in technical analysis that goes something like, once a trend begins it tends to continue for a while. In the case of the EUR/USD this means that Monday's trend continuation signal just happened. This could be the start of a new trend beginning from last week's low. And the new trend is also part of the larger developing uptrend that began off the September low.
For a look at all of today's economic events, check out our economic calendar.